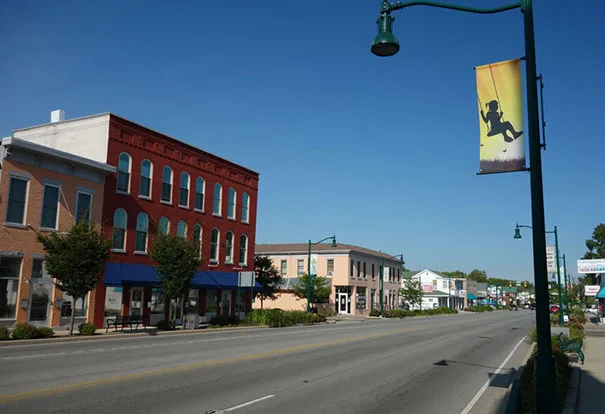 Introducing ORI.NET: Your Top-Tier Source for High-Speed Internet in Plainfield, IN
Welcome to Ori.net, the definitive solution for high-speed internet in Plainfield, IN! Whether you've recently settled in this delightful town or are looking for an exceptional internet provider, your search ends here. In the current digital era, having trustworthy and high-speed internet access is vital, especially with the increasing shift towards remote work. At Ori.net, we grasp the growing demand for rapid and reliable internet access, especially for professional pursuits.
Ori.net blends cutting-edge technology and local insight to offer an unrivaled internet experience. Our diverse collection of fixed wireless broadband plans is designed to satisfy a wide range of requirements, serving vibrant households and bustling businesses alike. Whether streaming trending TV series, overcoming online gaming hurdles, or engaging in crucial virtual meetings, our high-speed internet ensures a smooth and speedy connection, empowering you to perform your tasks effectively.
Witness the capabilities of wireless broadband high-speed internet, delivering bandwidth of up to 100 Mbps and potentially higher speeds. We feature various packages tailored to your specific needs and financial means. For example, our basic package offers speeds of up to 25 Mbps, while our superior package provides super-fast speeds of up to 100 Mbps. Moreover, you can augment your internet service by bundling it with other ORI.NET products, like SmarterMail Web Access, to extract maximum value for your investment.
At ORI.NET, we understand the distinctive challenges encountered by residents of Plainfield, IN, particularly regarding access to high-speed internet services. As a rural area, traditional wired internet services might not be readily accessible. Nonetheless, our fixed wireless broadband is the ideal solution, presenting more options and superior speeds compared to DSL or satellite internet. With ORI.NET, we ensure you can enjoy the perks of a dependable and rapid internet connection, irrespective of your location.
As both an ISP and WISP (Wireless Internet Service Provider), ORI.NET offers comprehensive and customized internet packages for multi-dwelling units (MDUs), businesses, and residential customers. Our suite of internet connectivity options includes fiber-optic, fixed wireless, and hybrid fiber-wireless solutions, guaranteeing we meet the diverse demands of our esteemed customers.
Our wireless broadband service delivers high-speed connectivity to both urban and rural areas, bridging the gap for those without access to traditional wired internet. An advantage of selecting ORI.NET is our extensive coverage area in Plainfield, IN. This broad coverage allows you to maintain uninterrupted connections with your loved ones, stream your preferred shows, listen to music, and partake in various online activities without disruption.
Fulfilling our pledge to deliver a convenient and user-friendly experience, ORI.NET offers the On-Ramp Indiana portal. Users can effortlessly access their accounts through this portal using a unique username and password. With the On-Ramp Indiana portal, managing your account details, paying bills online, and monitoring your data usage becomes a breeze. Should you have any queries or concerns, our devoted customer support team is available around the clock to provide immediate assistance and ensure a smooth, trouble-free experience.
Experience the extraordinary power of high-speed wireless broadband with Ori.net in Plainfield, IN. Uncover a new universe of possibilities and elevate your internet experience to unprecedented levels. Register today and experience continuous connectivity, lightning-fast speeds, and exceptional customer support.
Experience the Speed of Light with ORI.NET in Plainfield, IN: The Game-Changer in Wireless Broadband Services
The Ori.net Odyssey: A High-Speed Revolution
Once upon a time, in the bustling town of Plainfield, IN, Ori.net took its first breath. Born with an audacious dream to redefine the boundaries of internet connectivity, Ori.net embarked on a mission to deliver a high-speed internet experience that not only meets expectations but outshines them.
Ori.net in Plainfield, IN: Your Wireless Broadband Hero
Like a lighthouse in the digital ocean, Ori.net shines brightly in Plainfield, IN. Whether you're running a business or simply enjoying the comforts of home, Ori.net has your back. Embracing the airwaves, Ori.net promises to catapult you into the future of high-speed internet.
Ori.net's Broadband Palette: A Plan for Every User
One-size-fits-all is not a phrase in the Ori.net dictionary. Understanding that each business and household has unique internet needs, Ori.net offers a spectrum of wireless broadband plans. From the high-flying corporate giant to the humble home user, there's an Ori.net plan waiting to revolutionize your internet experience.
Unshackling Speed: The Ori.net Advantage
Leveraging cutting-edge technology, Ori.net brings you an internet service that's fast, reliable, and seamlessly smooth. Say goodbye to buffering and hello to a world where web pages load in the blink of an eye, downloads happen at warp speed, and video calls are crystal clear.
Installation Simplified: The Ori.net Pledge
With Ori.net, you can bid farewell to confusing manuals and tangled wires. From the state-of-the-art equipment to the friendly, skilled team that installs it, Ori.net ensures your transition to the world of wireless broadband is as smooth as a summer's breeze.
The Ori.net Experience: In the Words of Our Customers
Jane T., a local business owner, paints the Ori.net picture best, "Switching to Ori.net's Fixed Wireless Broadband Service was the best decision I've ever made. The impact on my business has been phenomenal. I couldn't imagine a day without their high-speed internet."
Embrace the future of internet connectivity with Ori.net in Plainfield, IN. Introducing Ori.net, your portal to reimagine high-speed internet. Discover internet services like never before! Dive headfirst into a realm where the impossible becomes possible, and the extraordinary becomes your everyday.