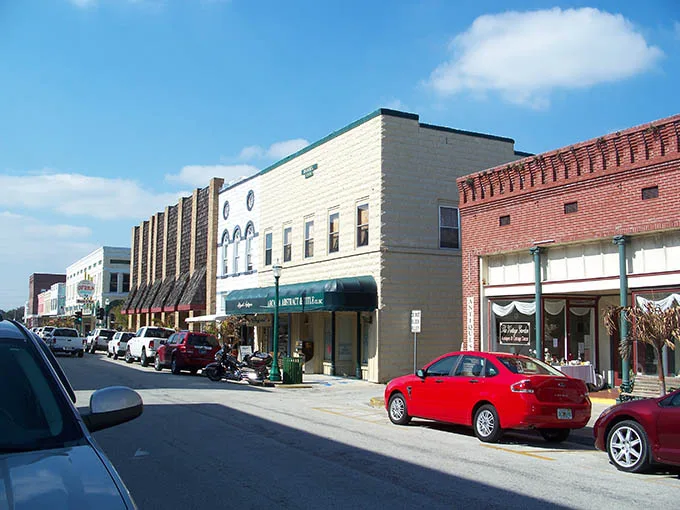 Experience Blazing-Fast Connectivity with Ori.net's Wireless Internet Plans in Arcadia, Indiana
Welcome to Ori.net, the unrivaled destination for high-speed internet in Arcadia, Indiana! If you are a new resident of the city of Arcadia, or if you're pursuing an enhanced internet service provider, you have found the ideal place. We are aware of the significant shift towards remote work following the Great Pandemic, and this drives our commitment to delivering swift and dependable internet access to meet your professional requirements.
At Ori.net, we meld cutting-edge technology with an intimate understanding of our local surroundings to create an unmatched internet experience. Our wide-ranging array of fixed wireless broadband plans is designed to accommodate an eclectic mix of needs, from bustling households to evolving businesses. Whether your day entails binge-watching the latest popular series, triumphing over an online gaming marathon, or maintaining seamless connectivity throughout crucial virtual meetings, our high-speed internet pledges a fluid, ultra-rapid connection.
Our wireless broadband high-speed internet service can achieve bandwidths of up to 100 Mbps and even higher speeds. Clients can choose from a myriad of packages based on their unique needs and budget constraints. For instance, our basic package delivers speeds reaching 25 Mbps, while our premium package amplifies this to 100 Mbps. Additionally, clients can amalgamate their internet service with other Ori.net offerings, such as SmarterMail Web Access, to enhance the value they receive.
In this digital era, the indispensability of reliable high-speed internet for work and leisure cannot be understated. Ori.net, a frontrunner in providing wireless broadband internet services, is proud to extend its services to Arcadia, Indiana. Although the rural setting of Arcadia may indicate a scarcity of high-speed internet services, our "fixed wireless broadband" is an ideal solution that levels the playing field by offering a broader selection and faster speeds than DSL or satellite internet.
As an ISP and WISP (Wireless Internet Service Provider), Ori.net meticulously constructs comprehensive and custom-tailored internet packages for multi-dwelling units (MDUs), businesses, and residential clients. Our array of internet connectivity options, which includes fiber-optic, fixed wireless, and hybrid fiber-wireless solutions, is geared toward addressing the diverse needs of our clientele.
We provide high-speed wireless broadband to urban and rural zones, including areas that may lack access to conventional wired internet. This connectivity ensures customers can engage with loved ones, stream their preferred entertainment, enjoy music, and much more! One significant advantage of Ori.net's service is the extensive coverage area we cater to in Arcadia, Indiana.
An exceptional feature of Ori.net's service is the On-Ramp Indiana portal, which empowers users with effortless access to their accounts via a unique username and password. This portal serves as a platform for customers to manage their account details, settle their bills online, and monitor their data usage. Furthermore, Ori.net's customer support team stands ready 24/7 to address any questions or concerns customers may face.
High-Speed Wireless Broadband Internet in Arcadia, Indiana Provided by ORI.NET
Why Use ORI.NET for Your Wireless Broadband
Serving businesses and domestic users in Arcadia, IN, Ori.net is steadfastly committed to rendering the most secure and superior wireless broadband service. On-Ramp Indiana has a solid history of supplying first-rate internet solutions. Ori.net's mission is to offer unparalleled connectivity and customer gratification in Arcadia.
Peering Into Ori.net's Origins and Foundational Ideas
Ori.net was instituted with the ambition of transforming the internet experience. It has since matured into a leading purveyor of high-speed wireless broadband services in Arcadia. From the era of Dial-ups to DSL, Ori.net's bedrock principles encompass innovation, reliability, and a pledge to remarkable customer assistance. Ori.net continually endeavors to facilitate its services while maintaining competitive pricing for its patrons.
Embrace Ultra-Rapid Connectivity with Ori.net's Wireless Broadband Plans
Ori.net offers a selection of fixed wireless broadband plans specifically fashioned to meet the demands of both residential and commercial users in Arcadia, IN. These schemes provide high-speed download and upload rates, assuring customers of adequate bandwidth for seamless browsing, streaming, and online gaming experiences.
Home Packages: Enhancing Your Daily Internet Interactions
Ori.net's domestic high-speed wireless broadband service in Arcadia, IN, is custom-made to meet the diverse needs of every household. With several plans available, customers can pick one that aligns best with their usage habits and financial objectives. The installation process is streamlined, and Ori.net provides all the necessary equipment for a fast connection.
Commercial Packages: Bolstering Arcadia's Enterprises
Ori.net acknowledges the importance of a stable, high-speed internet for business operations. Their wireless broadband service in Arcadia encompasses a range of packages explicitly crafted to satisfy businesses, regardless of their scale or industry. With Ori.net, companies can enjoy uninterrupted connectivity and augmented productivity.
Customer Reviews: A Mirror to Ori.net's Credibility
"Switching to Ori.net's high-speed wireless broadband service in Arcadia, IN, has been a turning point for our family. Now, we can stream movies and participate in online gaming without glitches. The excellent customer service and installation were effortless." – Sarah M., Arcadia Resident.
"As a small business proprietor in Arcadia, I cannot stress enough how vital the reliable-internet is for our daily activities. Ori.net's high-speed wireless broadband service has exceeded our expectations in terms of speed and reliability. Highly recommended!" – John S., Business Owner
Choose Ori.net for Peerless Wireless Broadband Service in Arcadia, IN
Ori.net's high-speed wireless broadband service in Arcadia offers an unmatched internet experience for both residential and commercial customers. With many plans, swift internet speeds, and an unwavering commitment to customer satisfaction, Ori.net is the optimal choice for those seeking a reliable wireless broadband service in Arcadia, IN. Don't settle for less – experience the Ori.net difference today!
Servicing the Zip Code 46030 for Arcadia